OUR SERVICES
WHY SHOULD YOU GET FANCY?

Modern Open-Air Design
Our studio lighting and camera are housed in sleek towers. In fact, our photos booths are so beautiful we couldn't bear the thought of hiding them in an enclosure! Our open set-up gives your guests a preview of the fun!

Beautiful Backdrops
We offer a wide range of luxurious sequins, vivid colors, and beautiful fabric backdrops. We can also create custom backdrops to showcase your brand or complement a specific theme.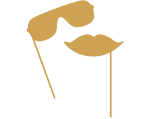 Perfect Props
Speech bubbles, oversized balloons, hashtag props, themed props, trendy phrases…you name it we have it! If you really want to get fancy, we can create custom props in the colors and theme of your choice!
Custom Templates
Bring your event together with a customized template to match your theme! We can use your existing branding, invitations, or décor as design inspiration to create something especially for you!

Premium Photo Book
Enjoy your event forever with a Premium Photo Album. All the images from your event will be compiled in a hardcover album.

Social Sharing
Your guests can instantly text and email their photos! They can also upload images directly to Facebook, Instagram, and Twitter, giving your event instant social presence!